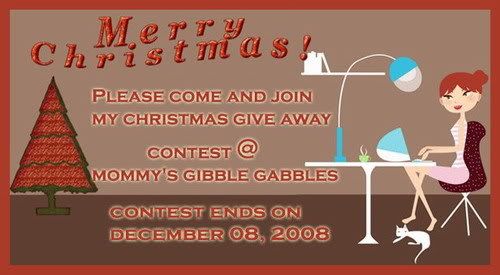 The first cool contest I have ever participated. This is hosted by a blogger friend, Darlene. Thanks a lot Dae Darlene for this very great contest. I might not win this contest since I am a bit late already compared to others who have posted it earlier.. but the best thing is that I participated and spread the word!! Christmas is fast approaching! The spirit of sharing and giving is there again!! I am just amazed especially by the home made prizes of Dae Darlene...great job!! Please visit her site for more details of the contest..It is just very easy to join the contest!! Please also visit the sites of the other sponsors who share and give-away prizes!!
Lastly, I want to thanks all blogger friends and all friends offline for your help and support in making my blogging world a better one!! Thanks a lot..everything is really appreciated!! God bless and More Power!!
oopppss..below are the great prizes at stake!! Good luck to the winners!!
FIRST PRIZE
1. Checkered Pink and Blue Blanket size 73 x 73 inches (click HERE for the picture)
2. 3 column blog layout designed by My Web Blog Designs
3. 3000 EC credits courtesy by Twerlermz Blog
4. 2500 EC credits courtesy by Techicardia
5. 2000 EC credits courtesy by Fil-Am Gallery
6. 2000 EC credits courtesy by Wonderful Things In Life
7. 2000 EC credits plus 1 month ad courtesy by Pink Hues
8. 1500 EC credits courtesy by Twinkletoe Writing Space
9. 1500 EC credits courtesy by Fit 4 All

SECOND PRIZE
1. Furry Orange Scarf for winter (click HERE for the picture)
2. 2 column blog layout designed by The Designer's Chic
3. 1000 EC credits plus 1 month ad courtesy by The Positive Side
4. 1000 EC credits plus 1 month ad courtesy by Random Chronicles
5. 1000 EC credits courtesy by The Joy Of Life Forever
6. 1000 EC credits courtesy by Pinay Endeavor
7. 1000 EC credits courtesy by My Life My World
8. 1000 EC credits courtesy by Lourdes Mia
9. 1000 EC credits courtesy by Pinay Mommy Online

THIRD PRIZE
1. Furry Pink Scarf for winter (click HERE for the picture)
2. 1000 EC Credits courtesy by Mommy Earns Money Online
3. 500 EC Credits courtesy by Ask Ms. Recipe
4. 500 EC Credits plus 1 month ad courtesy by Chronic Chick Talk
5. 500 EC Credits courtesy by Embrace Simplicity
6. 500 EC credits courtesy by Wiehanne Contest
7. 500 EC credits courtesy by Sweet Paradise
8. 500 EC credits courtesy by My Life's Adventure
9. Blog header courtesy by My Design Work Bench