I almost forgot that today is already the last day of the month. Tomorrow comes the first day of March and I hope that you will be greeting it with joy. May this month be a good one for all of us. I guess I am quite late now for my memes. I am just not feeling good yesterday having a migraine. I am also felt bad this morning due to my monthly sickness. I just got off from bed after feeling so hungry. I hope I will be feeling perfectly good all the time. I wish you all a wonderful Sunday! Have a great week everyone!
This picture or orchids where taken during our visit to the garden center. How I wish I have a garden full of orchids.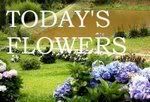 Click the logo to join and see participants of these wonderful memes! Thanks to respective Authors for hosting these beautiful memes! Have a great week to all!